Theme 2: Women and youth access to land
Presentation of the theme
Women's access to land and natural resources is a key international issue. Too often, women's rights to land and natural resources are minimised or denied in favour of men, even though they make up the bulk of the peasant workforce and play a key role in agricultural production and natural resource management. This is the combined result of two major factors:
customs reinforced by the misinterpretation of religion,
land policies and laws that do not sufficiently recognise the place of women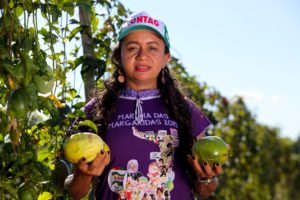 Women peasants are therefore doubly penalised, on the one hand because as peasants they are subject to the same pressure as men in terms of land grabbing, particularly on the commons which are often their main source of resources, and on the other hand because within the communities they are discriminated against by patriarchal traditions.
Young people are also affected by these patriarchal customs, which also make it difficult for them to access land and become empowered, with the result that they tend to flee the rural world and abandon agriculture, weakening communities and leaving them vulnerable to external pressures, when they could have an important role to play in strengthening them and ensuring the future of peasant agriculture. The difference with women is that young people are destined to become senior citizens, so this discrimination is temporary, unlike that affecting women.
This discussion will be based on the experience developed by the UACCDDDD (Union of Associations and Coordination of Associations for the Development of the Rights of the Poor), a member of the Malian Convergence Against Land Grabbing (CMAT) in Mali.
Purpose of this discussion
This approach was developed in the specific context of West Africa, and does not claim to have universal value. Struggles must be adapted to local and national contexts, and therefore the forms of mobilisation will necessarily be different in other regions. The objective of this debate will be to compare the experiences of women's struggles around the world with that of the UACCDD and to reflect on possible common actions between various organisations and regions mobilised around this struggle, and on the international advocacy to be strengthened.
Main co-organiser: Convergence of Struggles for Land and Natural Resources - West Africa on the occasion of the launch of the third West African Caravan on the Right to Land, Water and Peasant Agroecology.
Theme 2: Timeline
23 November: Launch videoconference
24 November to 16 December: online exchanges and discussions.
16 December : Closing of the theme with the presentation of 3 emblematic struggles presented by women farmers from all over the world
January 2021: Videos of the videoconferences and summary documents available on the website